Blog and tails of an animal communicator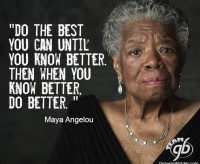 "Doing better" with our furry family as told by an animal communicator
One of my all time favorite quotes is by Maya Angelou. It is the quote you see beside this blog. "
Do the best you can until you know better. Then when you know better, do better.
" It is such a beautiful, insightful saying. We should all striveto do ourbest. Then when we gain more knowledge do even better with that new knowledge. Yet, as I saw Dr. Angelou say many times never live in the past. Don't beat yourself up over what you didn't know, but once you know then take the necessary and properchanges to get on the right course.
Recently, I worked with a very nice family with two dogs looking to get a new puppy. The dogs were both very sweet, gentle beings. Among other communication requests, the parents wanted me to prepare both dogs for the new puppy. I worked with the younger dog first. Her main request with regard to the puppy, was to have veto power in case she and the other dog just didn't care for the new one. The parents said that was not an option. I suggested taking both dogs to meet the puppy prior to bringing it permanently to live with them. In doing this initial meeting this way, on neutral ground, rather than having a new puppy forced on the two established family dogs and the parents telling all three "get along and make it work," the
energy
shifts. It goes from a puppy invading and taking over to the "whole family" pick inking and being including in the process. Totally different
energy
. The mom sat back and said, "I never thought of it that way. Yes! We will let them go with us to pick out the puppy." The dog was happy. The parents saw things in a new light and are doing even better.
Then I moved onto the more mature dog. Her first
communication
was an apology. She said, "tell them I'm sorry I'm not as good as '
Rose
'" (the younger dog). The parents, through no fault of their own, praised Rose for feats that "
Amy
" (the more mature dog) never even thought to achieve. Those acts were simply not on her radar. When Rose performed such acts, the parents raved. I conveyed Amy's comment and the mom burst into tears. She said, "I always tell Amy she's the prettiest dog." I said, "yes but you just said Rose is the best dog, correct? They understand the difference between surface and substance."

Amy continued and said, "the puppy is my replacement." I told the parents her communication. Both parents gasped, mom's tears flowed and she sheepishly whispered "it is".
I said to them if you've spoken verbally of a replacement the problem becomes Amy starts mocking that up so as not to disappoint you. Amy had been having a few peeing accidents inside, which the vet didn't find any medical issues for at this point. However, when I looked at the issue, I saw it was fear of having to let go to make room for the puppy. I moved out the fear. Then I said if you don't want Amy to move on, then I suggest you look at the puppy as an addition to the family, not a replacement. I suggested they reconfirm with Amy on a physical, verbal level that they want her to stay for as long as possible and the puppy is only an addition. I communicated all this to Amy on an
energy
level as well. The dad immediately started telling Amy they needed her to teach the new puppy the routine of everything and how to be in the "pack", just as she had does so brilliantly with Rose.

They knew better and were beginning to do better. I could see shifts already taking place within Amy.

I looked at the mom. She was riddled with guilt, as she held Amy's paw gently and wiped the tears from her face. Then, as I often am, I remembered Maya Angelou's quote. I told her they do a great job and reminded her now they have more knowledge and can do better. But not to feel guilty about not knowing what you don't know, just let go, let be and move forward doing better. I love that quote from Dr. Angelou. It's a guiding force in my life. Don't beat yourself up for what you didn't know. But once you know it, then shift and move forward with the new knowledge. Thank you Dr. Angelio for this wonderful, insightful saying. I hope you find this quote helpful and inspirational to you.

Until next time, may you and your family (including furry ones) stay warm and healthy.

*Names were changed for privacy and confidentiality.